Welcome to the TXbar Grassfed Beef website, where we invite you to step into the heart and soul of our family's rich heritage in cattle ranching. For over five generations, our family has been dedicated to the art of raising cattle and providing the finest quality grassfed beef.
We are thrilled to share our story with you, highlighting the deep-rooted traditions that have shaped our journey.
A Legacy Carved in Time
It all started with Papa Jim Martinez, who grew up alongside his father, Papa Tom, learning the ropes of the trade. Papa Jim got the JM Slash brand on the left rib and it became a symbol of the commitment to exceptional quality and practices.
Continuing this proud legacy is Tyler Martinez, Jim's son, with over 60 years of ranching experience. Tyler's career as a commodities broker, ranch real estate broker, and commercial rancher led him to discover the TX Bar brand—a symbol that resonated deeply with him. In creating his own brand, Tyler wanted something that went on cleanly, did not blotch and was easily noticed from a distance, combining the "T" for Tyler with the clean and recognizable "X" and bar.
Continuing the Tradition
Then there's Travis Martinez (me), who has been ranching alongside his father for 40 years. His Rocking TM brand, with the quarter circle underneath resembling a smiley face, represents his initials and his genuine love for what he does.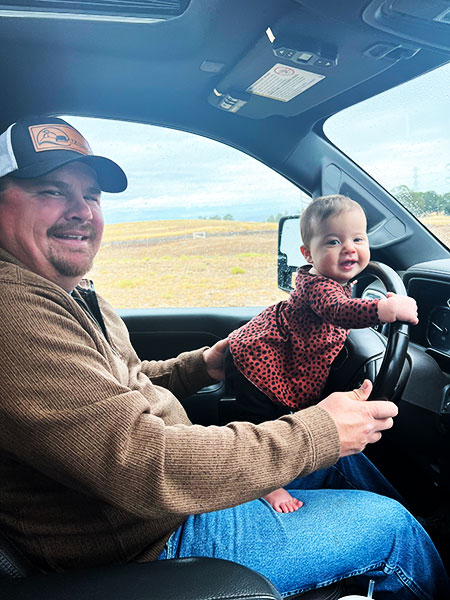 Expanding our family circle, Josh Gruber, our brother-in-law, embarked on his own journey a decade ago, establishing the 21 Bar brand. This brand signifies a special day—the birth of his son, Brooks. Today, Beau, Josh's son, proudly carries Papa Jim's brand, keeping it alive and honoring our family tradition.
Here is a good Family Reunion Picture of the Martinez Family at My Grandma Roxy's 85th Birthday Party from Right to left me (Travis Martinez) Gianella my daughter Ashleigh my wife uncle Tim his wife Nancy and her daughters son. My Grandma Roxy in the peach shirt my dad Tyler Martinez my nephew brooks my mother Patti Martinez my other nephew beau my aunt kk my sister Jenninfer and her husband josh Gruber my cousins son Brennan my oldest cousins wife Tiffany their daughter Adelia my brother in law Jon and nephew Henry and my cousin Shannon.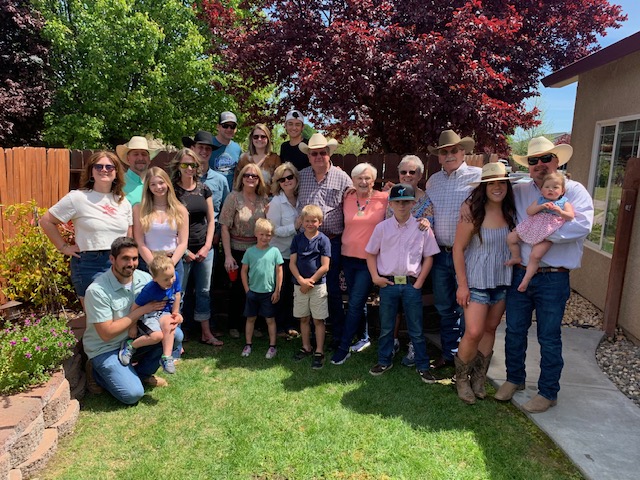 A Family United
At TX Bar Grassfed Beef, our commitment to sustainable ranching and the highest quality cattle care extends beyond bloodlines. Husbands, wives, kids, and friends all join forces to preserve our family's cattle ranching tradition year after year. Together, we embrace our duty to protect the land, eliminate waste, and foster a deep appreciation for the ranching way of life.
Our Promise to You
When you choose TX Bar Cattle Company, you are not only indulging in the finest quality food, but you are also becoming a part of our extended family. We take immense pride in raising our cattle with the utmost care, from the finest genetics and breeding to the way we nurture and feed them throughout their lives. Our commitment to your satisfaction and the well-being of our land is unwavering.
Join Our Journey
We invite you to embark on this extraordinary journey with us as we continue to grow and evolve.
Feel free to reach out to us at txbargrassfed@gmail.com with any questions or to share your own experiences.
The TX Bar Cattle Company