This recipe is sure to please the whole family and can be whipped up in just 30 mins. It's a great way to use top round steaks and it makes fabulous leftovers too!
INGREDIENTS
For Crispy Beef :
• 2-2 1/2 pounds top round steak
• 1/2 teaspoon baking soda
• 2 garlic cloves, thinly sliced
• 1 1/2 tablespoons soy sauce
• 1/2 teaspoon fresh cracked black pepper
• 1/4 cup olive oil
• 1/2 cup corn starch
For Sauce :
• 1/4 cup hoisin sauce
• 1/4 cup soy sauce
• 2 tablespoons orange marmalade
• 1-2 tablespoon rice wine vinegar
• 1 clove garlic, minced and chopped
• 1 teaspoon fresh grated ginger
• Juice of an orange
• 1 tablespoon sesame seeds
• 1/2 cup water
• 1 teaspoon cornstarch
For Garnishes :
• Chopped green onions
• Fresh herbs such as basil or cilantro
• More sesame seeds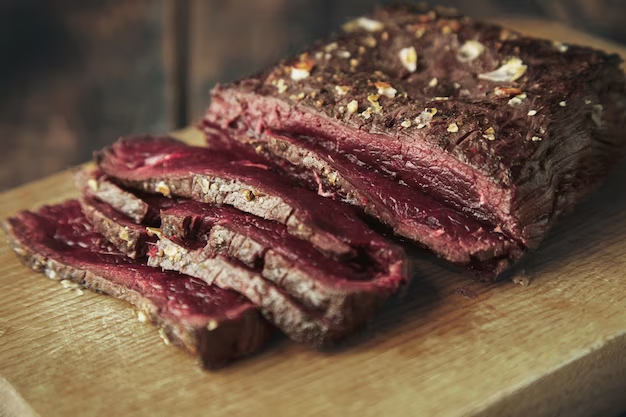 INSTRUCTIONS
Slice the round steak into strips as thinly as possible. A partially frozen steak slices with ease! Place the strips into a large bowl and add the baking soda, garlic, soy sauce, and pepper to the meat. Mix thoroughly and let stand for 10 minutes. The cornstarch will be mixed into the meat just before frying the beef.
While the steak marinates, whisk all the sauce ingredients together except for the water and cornstarch. Heat a large skillet over medium-high heat. Add the oil. Mix the cornstarch into the beef and fry in batches, 1-2 minutes per side. Once fried, set the steak aside. Quickly add the sauce to a hot pan, along with the water and cornstarch, and bring to a simmer.
Add the beef back to the pan and coat with the sauce. Serve over rice, garnish, and enjoy!
Get in touch if you are interested in the best quality of grass-fed beef that North California has to offer.