Do you want to eat healthier food at home? If yes, then you should try cooking grass-fed beef. This is because it has less fat and cholesterol compared to other types of meat.
Grass-fed beef is usually raised on pastureland, where they get to graze freely. They also tend to live longer and have a better quality of life.
According to the American Meat Institute, grass-fed cattle are generally leaner, healthier animals. This means that they require fewer calories to produce the same amount of protein. In addition, grass-fed beef tends to contain lower levels of saturated fats and higher amounts of omega 3 fatty acids, which are beneficial for heart health.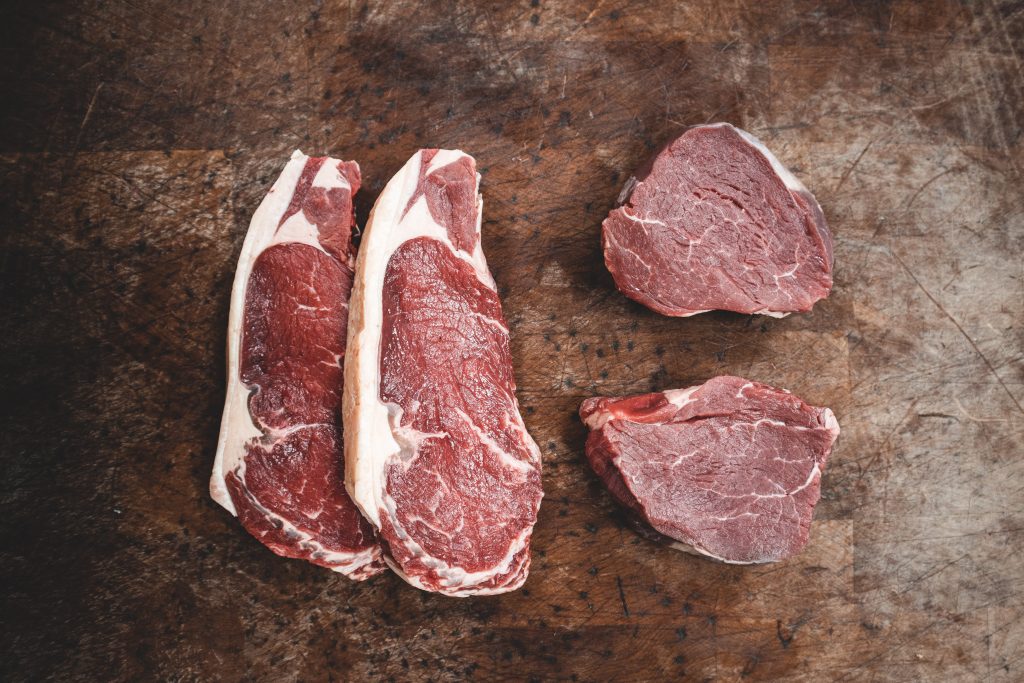 When it comes to cooking it there is a difference compared to conventionally raised meats, which get little to no exercise. As this makes it a lot leaner, it tends to be cooked more gently, making it juicy and tender. 
Where to start when cooking Grass-fed Beef? 
Starting with thawing the beef. It should never be thawed out in an oven or microwave. Always thaw in the refrigerator with no packaging. 
But, when it comes to packaging, use a vacuum seal machine, otherwise, always use a ziplock bag and push all the air out. You want it as tight as possible.
This is a good rule for all meats, but especially grass-fed beef. Start cooking the meat at room temperature. It will cook faster to your ideal temperature but this gentler cooking method also helps your meat stay juicy and delicious.
When it comes to grass-fed beef you will want to sear it. This allows you to control the temperature. But it allows the naturally-occurring sugars to carmelize on the surface while keeping the muscle fibers from attracting too quickly. 
If you want to grill it, seal on both sides on high heat to lock all the natural juices in. Reduce the temperature to low or medium to finish the cooking process. The same can be said for the oven, seal both sides of the beef. 
BUT, it is very easy to overcook grass-fed beef!
To avoid your beef from becoming chewy and dry, cook it at a low temperature. Otherwise, you cook off the fats, which comes with a loss of nutrients. 
Remember, one of the huge benefits of grass-fed beef is that it tastes so good. So when it comes to seasoning start small. A little salt and pepper might be all you need to serve it up. 
If you are having grass-fed beef weekly, invest in a meat thermometer. This will ensure you cook it just the way you like it – every time. The desired internal temperatures for grass-fed beef are:
Rare – 120° (deep pink, verging on red, very juicy)
Medium Rare – 130° (warm pink and juicy)
Medium – 140° (light pink, moist)
Medium Well – 150° (barely pink, turning to grey, drier)
Well Done – 160° (totally grey, dry)
Don't play with your meat, that means no prodding with a fork or spatula. This allows the fats to escape giving a less juicy result. This can also be said for turning the beef while it is cooking, always use tongs. 
Since grass-fed beef requires 30% less cooking time and continues to cook even after it is taken off the heat. Take the beef off once it is 10 degrees off the desired temperature you want. 
Always pre-heat the oven, grill, or pan before cooking grass-fed beef. Lastly, give the meat rest once it is cooked. This stops the juices from going all over the plate or chopping board.
There is a right way and wrong way to cook grass-fed beef but the most important thing to remember is not to overdo it. 
Get in touch if you would are interested in the best quality of grass-fed beef that North California has to offer and want to put these tips into practice.