Serve these crunchy taco bowls with a choice of toppings for a flavour-packed crowd-pleaser. You won't need plates – just lots of napkins!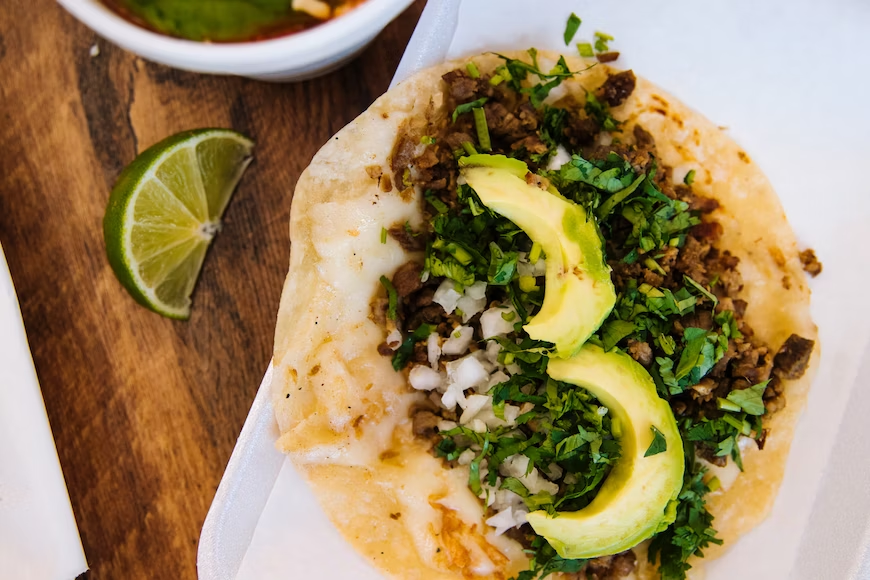 Ingredients
20 fl oz beef stock
2 tsp ground cumin
2 tsp ground cilantro
3 garlic cloves, finely chopped
1 1/4 Cup marinara
1/3 Cup chipotle chilli paste (or tomato purée if you don't want it at all spicy)
50 oz piece braising beef
2 x 14 oz cans black beans or kidney beans, drained but not rinsed
1 lime, juiced
Small bunch fresh cilantro, chopped
8 large flour tortillas or corn tortillas
Method
STEP 1
Heat oven to 340F/gas 4. Tip the beef stock, spices, garlic, marinara and chilli paste (or tomato purée, if using) into a large flameproof dish and season. Place on a medium heat, bring to a simmer, then add the beef and coat in the sauce. Cover and braise in the oven for 5-6 hrs, or until the beef is really tender. Remove from the oven and leave to rest for around 30 mins.
STEP 2
Using two forks, shred the beef into the sauce. Until this point, the dish can be prepared up to three days ahead – the flavours will improve over time. To reheat, stir in the beans and place on a low heat, then squeeze in the lime juice and keep warm on a low heat or in a low oven. Stir through the cilantro just before serving.
STEP 3
To make the taco bowls, heat oven to 340F/ gas 5. Brush each tortilla with a little oil, then tuck into a small ovenproof bowl and hold in place with a ball of foil. Cook for 8-12 mins until crisp. This can be done in batches if needed. If cooking ahead, leave to cool and keep in a large airtight container overnight. To serve, half-fill the tacos with red cabbage abnd pickled slaw, top with the chilli and sprinkle with your choice of toppings.
Recipe Tip
Some of our favourite toppings include sour cream, lime wedges, diced avocado or guacamole, finely sliced purple onion, sliced red chilli, chopped tomato, crumbled feta or grated mild cheddar cheese.
Get in touch if you are interested in the best quality of grass-fed beef that North California has to offer.