As previously mentioned in a blog post of ours, buying in bulk can be much more cost efficient and convenient for you the customer, but something that we often get asked by our customers is how much it would cost to purchase half a beef from our ranch here in Northern California.

The price of half a cow will vary depending on the exact weight of the animal but our prices usually start from around $2,000. In terms of cost per pound, it is very tough to say what exactly it would cost but you can expect to pay between $2,100-$2,200 on average after paying our fees for raising the animal and paying the butchering fees which is a separate business from us. You can expect to get between 200-275 pounds of take home beef witch averages out to you paying between $9.50-$9.75 a pound. Something important to note is that when ordering a half a cow it is important to note that we will pair you up with someone that wants the other half. We will not harvest the animal until we have a complete whole beef order.
Once you put your order in we will ask you to put down a deposit. After this has been completed we will begin work on your order and keep you posted on progress!
Where do I pick up my order from? 
Once your order has been completed we will let you know and you will then be able to come pick it up from the butcher. The local butcher that we work with on a regular basis is Los Molinos Meats, who are also located in California. We have had customers drive to us from as far as Southern California and Northern Oregon to pick up their grass fed beef order from the butcher.
If you are driving from a long distance away we always recommend picking up some dry ice on the way home, this is to ensure that your beef remains frozen until you arrive safely back home.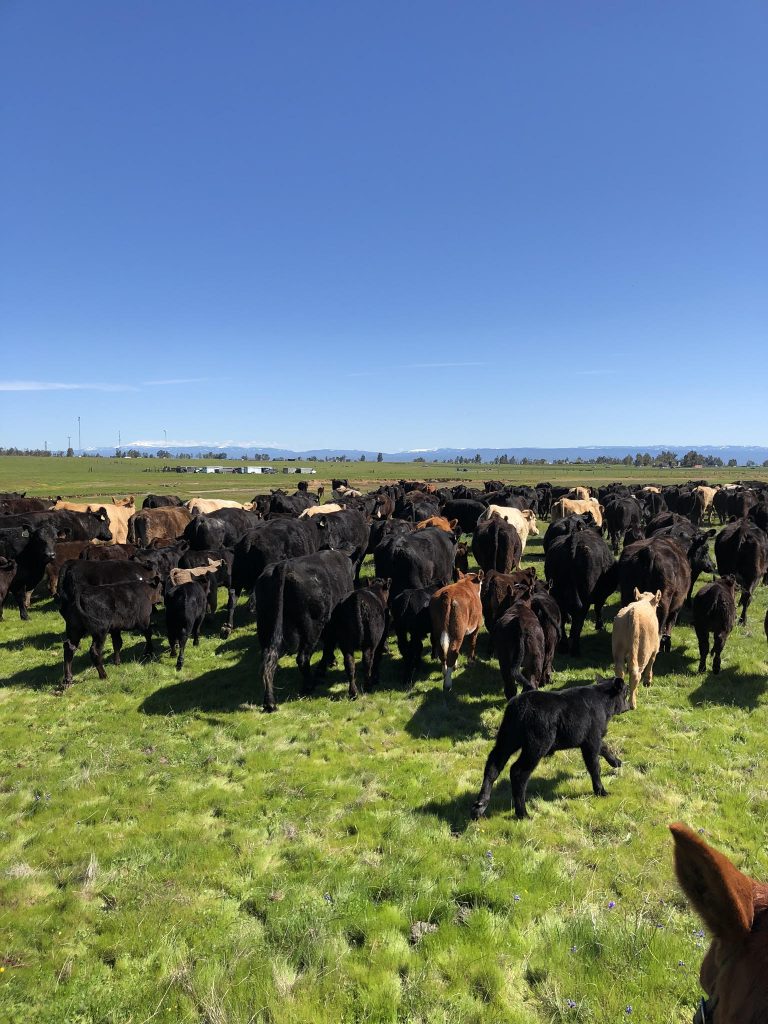 How much freezer space is needed for half a beef?
Half a beef will naturally take up a large amount of space in any household freezer but if you are lucky enough to own more than one freezer or one large one you should be fine on your own. You'll need a 8-12 foot cubic freezer for half a beef and you should have plenty of room to spare! If you are lucky enough to have a 12 cubic foot freezer you would also be able to get a pig butchered down the road to fit in it as well. If you decide to go for a whole beef order we would suggest you own a 18-20 cubic foot freezer and if you get a 20 cubic foot freezer you'll have room to spare for a whole pig just.
If it is a case whereby you think you will not have the necessary free space in your freezer why not share your order with some friends and family members? 
Our Guarantee
With over 50 years experience raising cattle on our ranch we pride ourselves on the quality of our grass fed beef. Our grass fed program is sustainable and we take the utmost care of our land through ranch management. Our mission is to provide great quality food to great quality people. All of our cattle are hormone and antibiotic free and grass fed on our family ranch here in Northern California. 
If you would like to find out some more info on why grass fed beef is considered to be more beneficial for the environment be sure to take a look at our blog post on this topic!